Why landscaping can make your home sell faster and for more money
by Dana Hybl
---
Why landscaping can make your home sell faster and for more money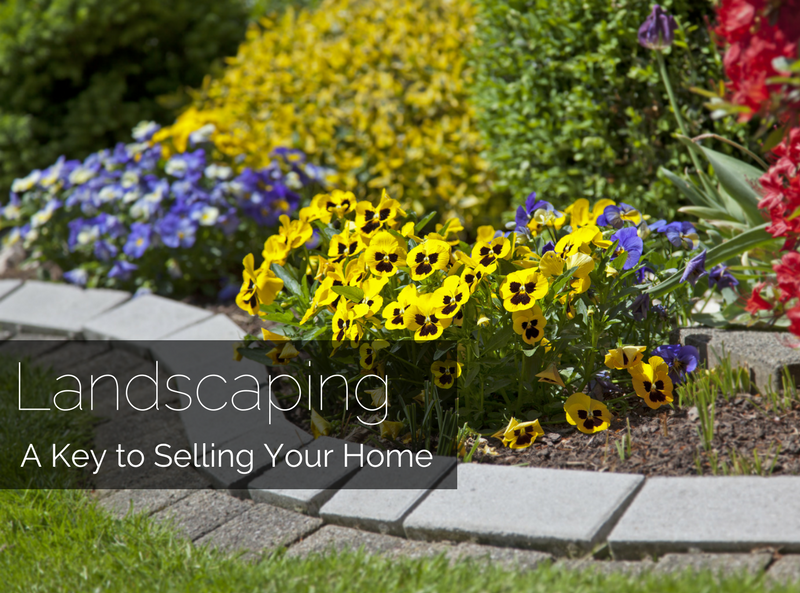 Plain and simple, the quality of your landscaping determines whether or not your home feels inviting from the outside.
Curb appeal is what people call it and it's a key ingredient in the decision to buy a home to more than 71 percent of homebuyers. As you know, landscaping plays a huge role in the curb appeal that you present to prospective buyers for your home. The first impression is key: if buyers don't like what your home looks like from the front of the house, they won't even go into your home.
From a return on investment (ROI) perspective, investments in landscaping tend to provide a much higher payout.
While a kitchen upgrade can yield as much as a 68% ROI, money invested in improving your landscaping could net you a handsome 215%. Without question, it's money well spent, especially if your neighbors have upgraded their home's plush greenery and flowers.
If you're willing to do what's necessary, having great landscaping can make your home sell faster and for more money. Let's take a look at four things regarding your landscaping and the positive impact it can have on your home sale.

Maintenance

If you're planning on selling your home, you'll need to get ahead of the game. What that means is it's going to take time to make sure your lawn, shrubs and overall landscaping scene are going to be ready for when you sell.
You see, it's more than just cutting your lawn and planting a few flowers.
First, you need to clean your yard: remove dead branches, pick up dog droppings, weed everywhere and remove anything that's broken.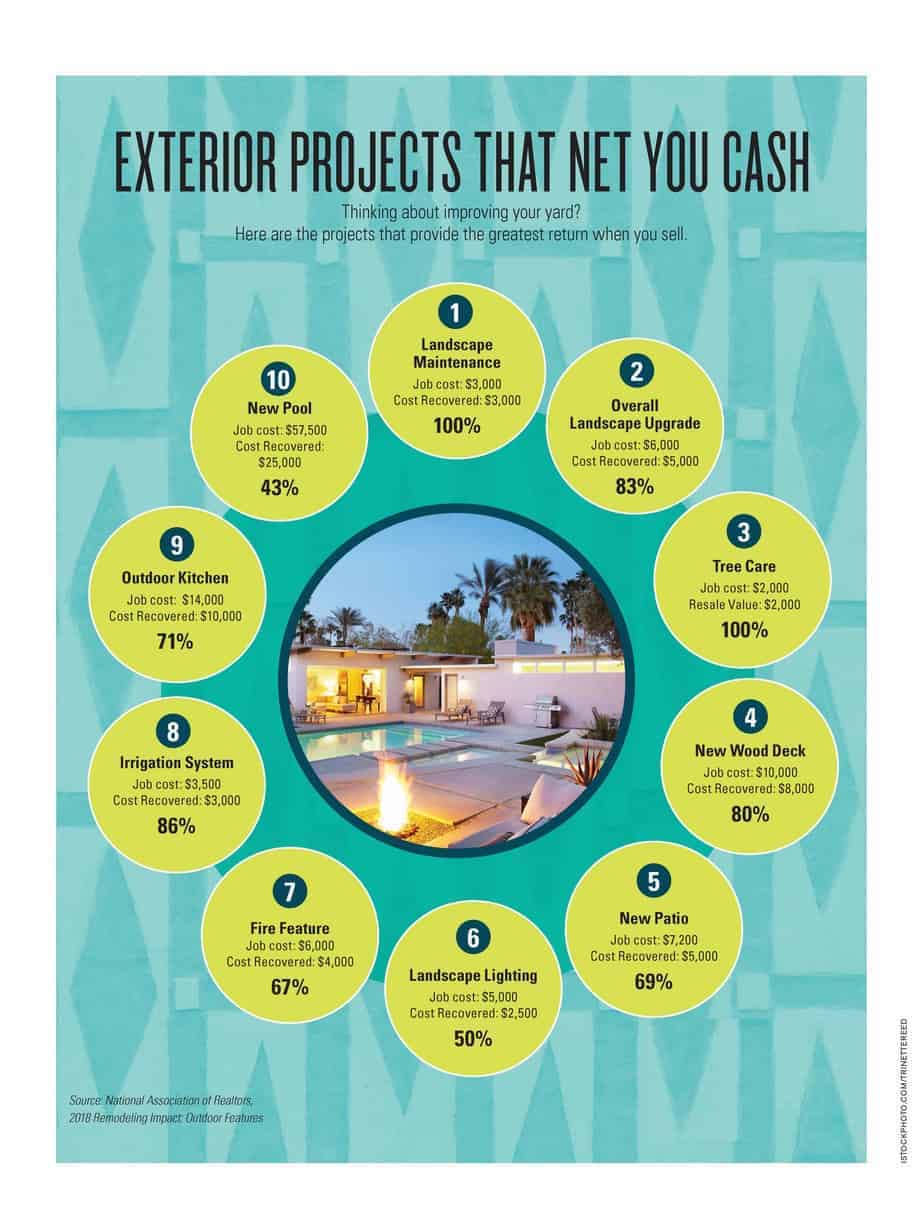 From there, you need to attack the hidden or unseen things like ensuring the downspouts are clean and functional and taking time to make sure drain pipes are properly buried and draining so you don't get standing water in your yard.
After that, pay attention to what industry experts call "hardscapes". Areas like patios, walkways and fences need to be level and can't have roots pushing up around the base or any cracks. Also, make sure your deck doesn't have wobbly railings or loose steps.
Fix all of it.
Lastly, review the health of your plants and shrubs. Dead, dying and/or yellow plants not only look bad, but they can lead to additional maintenance problems that will need attention and correction in the future. In addition, trim back overgrown shrubs, especially those that encroach on your sidewalk and impede people's access to your home.
Because your front yard plays such a pivotal role in getting people in the front door to sell your home, it needs to look as pristine as possible.

2. Landscaping features


While the front yard is the curb appeal that gets people in the door, the backyard is the "eye candy" that keeps people there. People look at the backyard as a comfortable spot to hang out, socialize and spend time with friends and family.
When you think backyard, think decks and patios. Also consider other personalized options, such as fire pits, outdoor kitchens, fountains and lighting. These are things that make a backyard seem like paradise to people. You don't want folks to walk out and just see a fence.
It's not very appealing.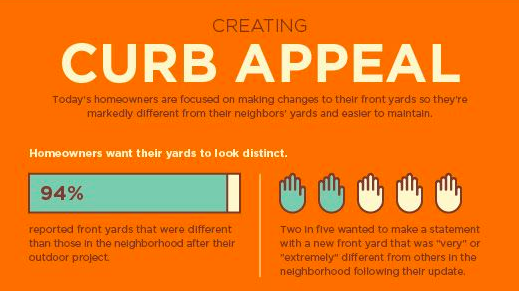 It's important to note that many hardscapes - fountains, fire pits, patios, etc. - don't usually add a ton of value. Rather, they increase perceived value and make something more saleable to a buyer. If you do choose to add these elements to your home, make sure you like them and would want them for yourself as they don't recoup a lot based upon your investment.
When it comes to furniture, it doesn't have to be expensive, but it should be in good condition and look presentable. Scrub it clean, get new cushions and make them shine for prospective buyers.

3. Don't waste your money


Expenses can add up quickly when you're making upgrades and renovations so your yard looks good for buyers.
Much like you wouldn't put highly customized and expensive upgrades inside your home, you wouldn't put extremely unique plants, decorations and hardscapes in your yard prior to sale:
Don't spend a lot of money on mature plants that someone might rip out the day they move in
Pick cobblestones, decorations and other customizations that a would be appreciated by the widest number of buyers
Don't put in a complete children's playset and make sure you take yours down unless the buyer wants to purchase it
Don't buy a large number of plants to put into the ground, either. Get a couple of larger plants or put in something like a 3-gallon flowering shrub
If you're planning to sell down the road and you're going to put in a fence, choose an alternate board fence. It costs a little more, but it's more appealing than a traditional picket or chain link fence.
Invest wisely as you choose to upgrade your yard in an effort to make it appealing to prospective buyers.

4. Simplicity speaks volumes


Sometimes, the most elegant things are also the simplest. Doing something like carving out a small part of your backyard with a little patio, a couple of chairs and a chiminea would cost you a small amount of money, but could increase the perceived value of your home greatly.
Same things goes for plants.
If you're going to put in flowers, plants, shrubs, etc., make sure that they are the type that do well in our climate and look like they belong in the area. We don't live in the Galapagos Islands and get heavy rains every morning before the sun shines.
Use plants that grow well in our area during the season(s) in which they flourish.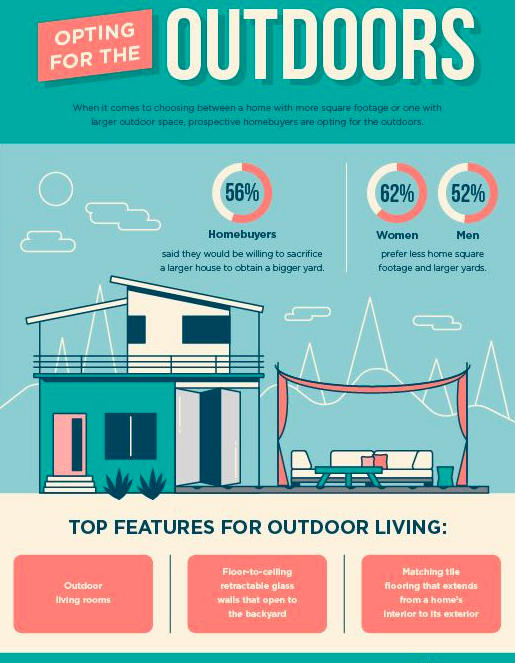 Lastly, make sure that your lawn is lush and full. It doesn't have to be huge and it doesn't have to be deep and dark. Just take care of it and make sure it looks beautiful.
In the end, taking care of the outside is like taking care of the inside. Remove clutter and keep everything well organized. In some cases, it may make more sense to plant fewer items (and even remove plants) to give your home a fresher, cleaner look
Landscaping should be simple, elegant and beautiful. Strive for that for your home and you should be in great shape when it comes time to sell.